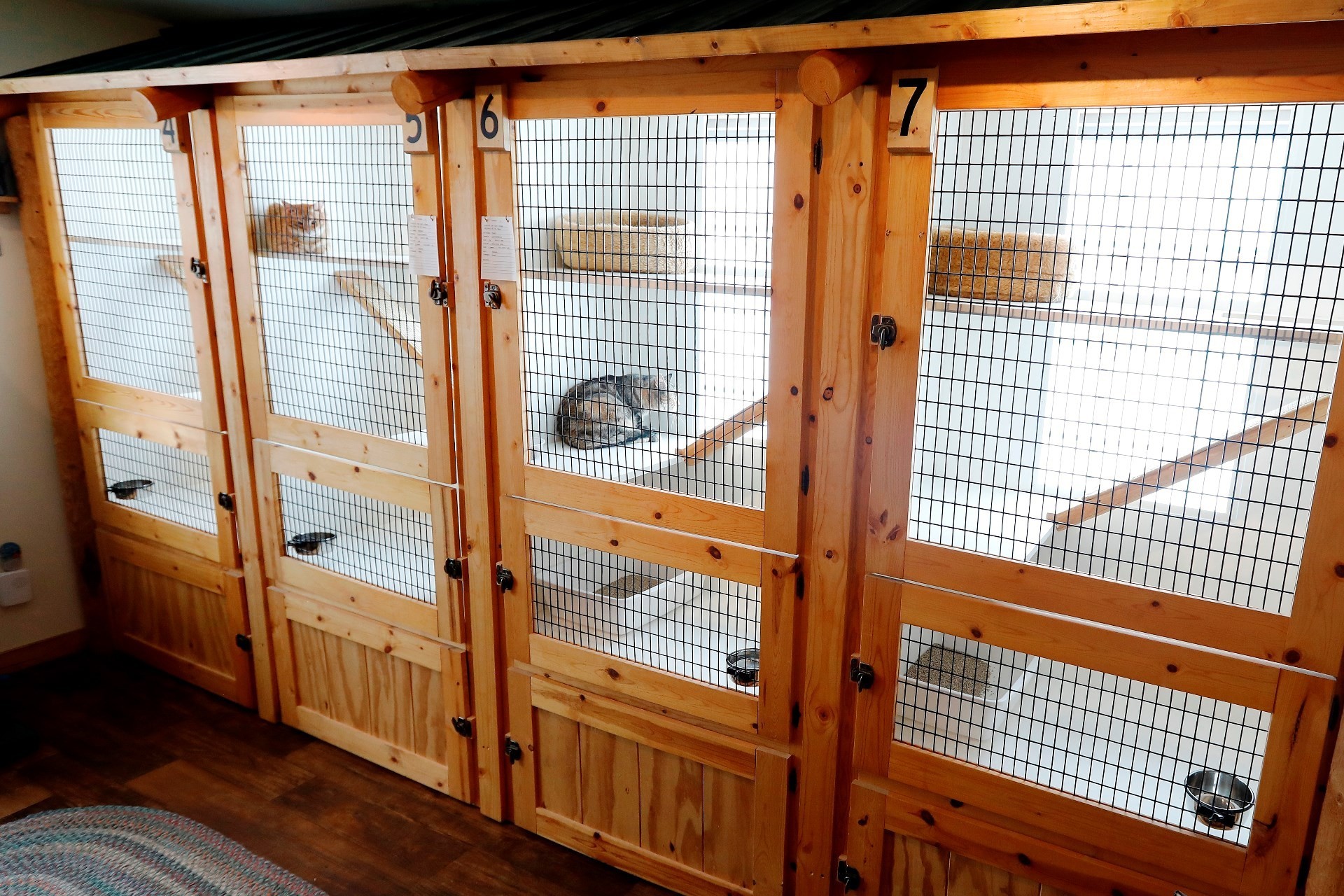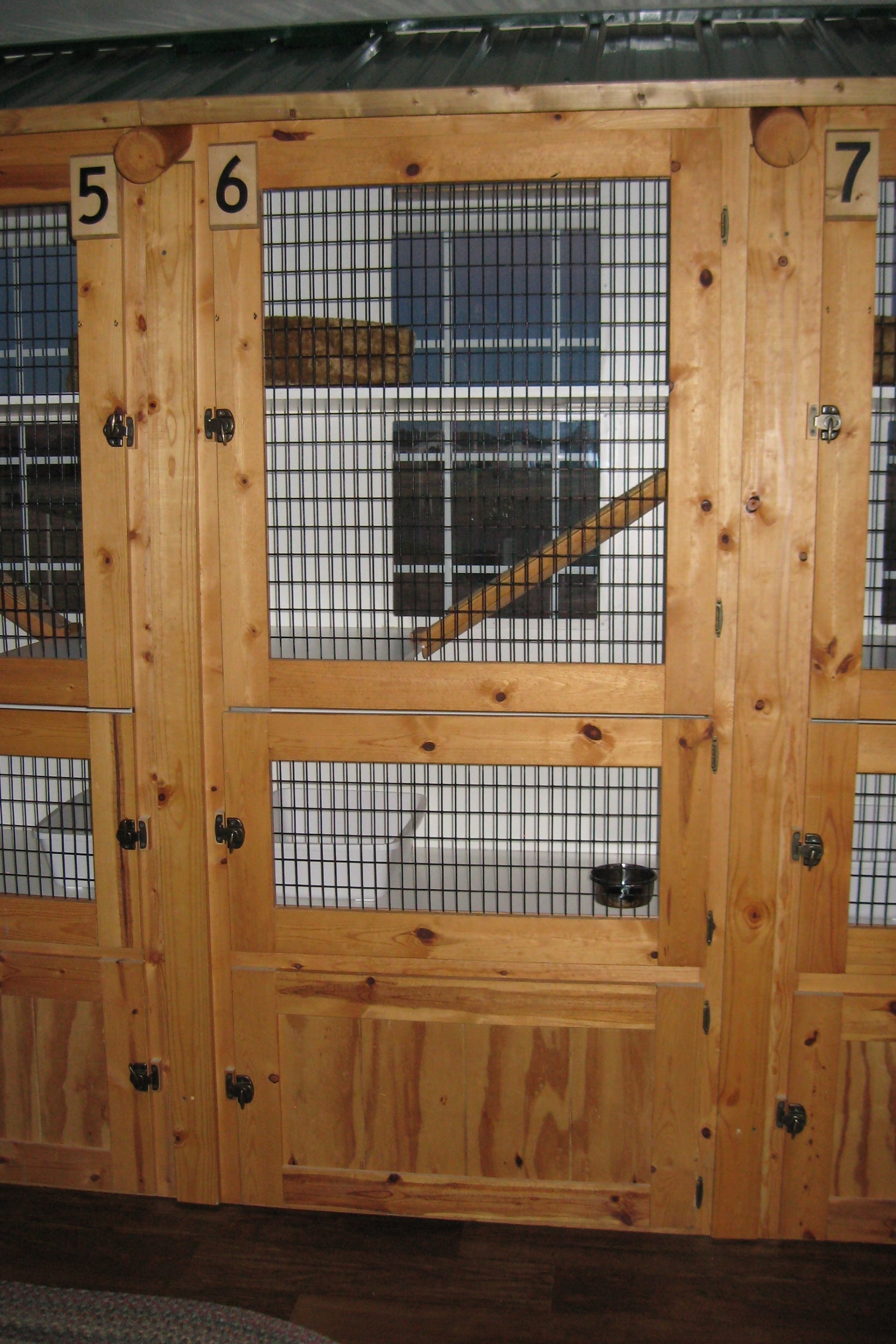 Individual & private Single Cabins
Single Cabins---floor to ceiling units with viewing window

The PLAYROOM is available to all our cat guests---one at a time. Of course, the cats from the same family can come out together. We simply open the lower cabin door, so that the cat(s) can come and go as they choose. After a fair amount of time, they are returned to their cabin and the next cabin is opened for playtime. We make sure they get some exercise during playtime with the cat tree, chasing balls, stalking wand teasers, or chasing the "red dot" laser.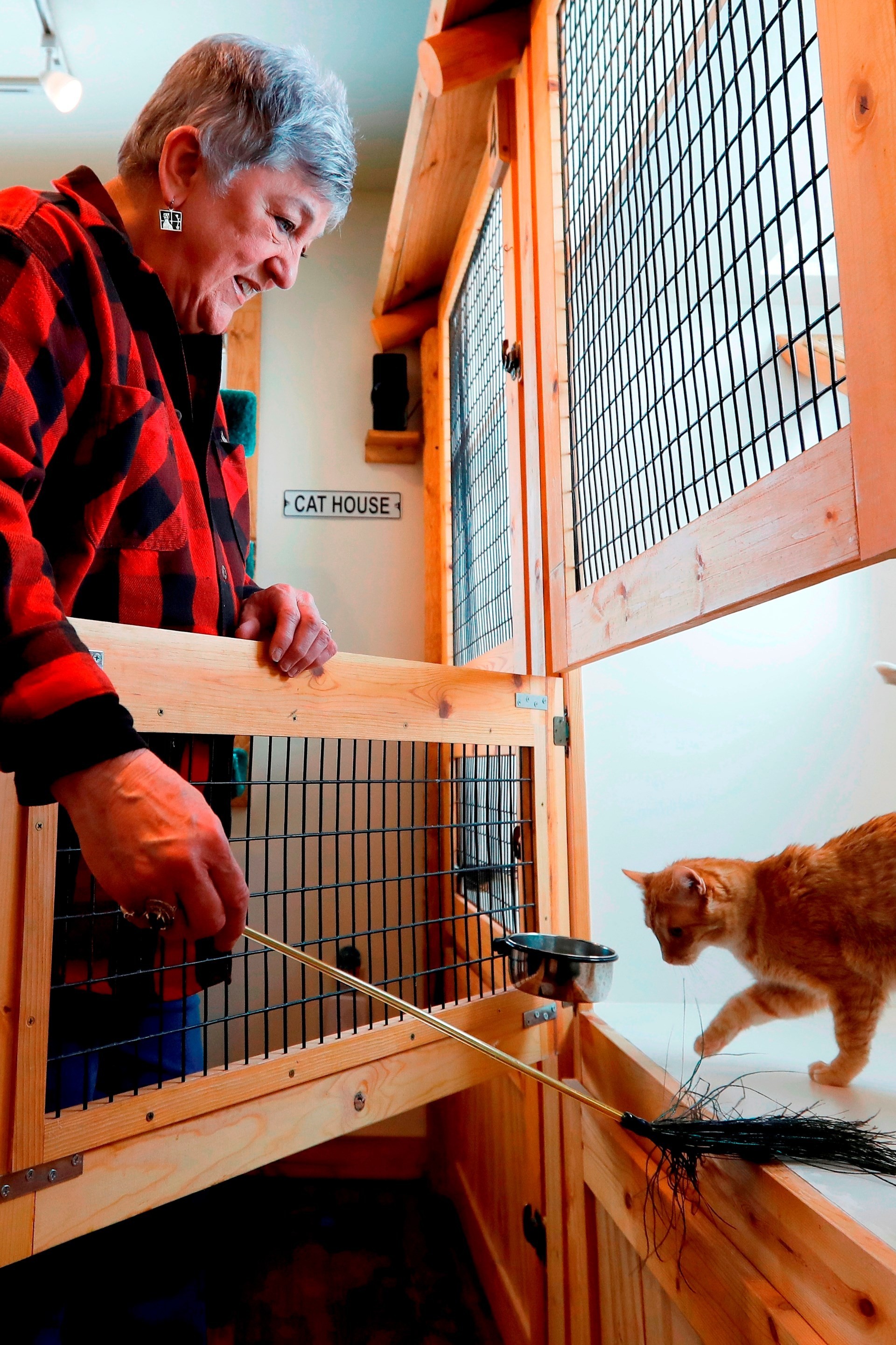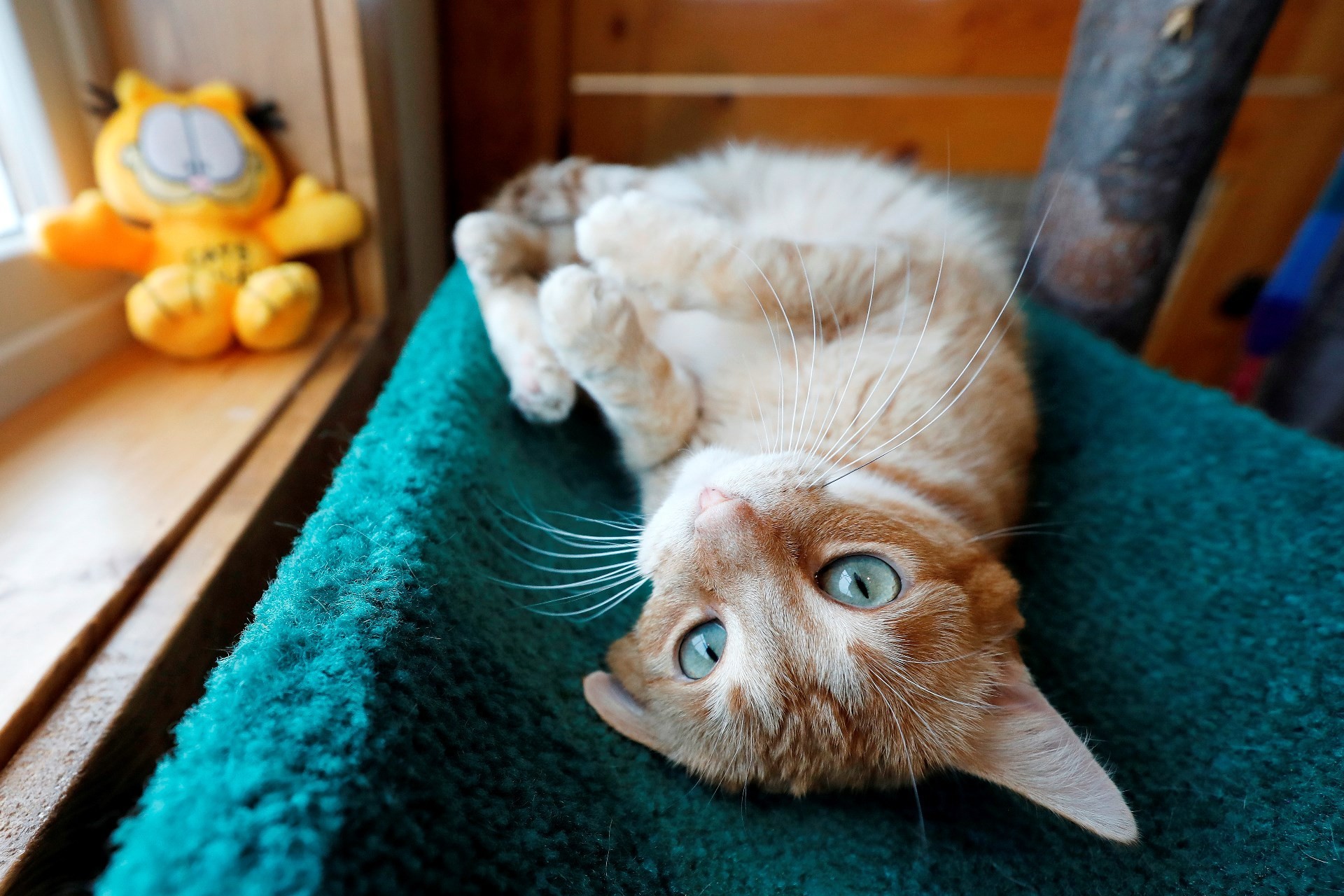 Tricia playing with guest "Sarah"
Enjoying the cat tree in Cattery Playroom

SUITE CABIN + PLAYROOM
We have one SUITE Cabin which is 7 feet high by 4 feet wide, by 2 feet deep with 3 levels. It is roomier for one cat (especially Maine Coons, Persians, or Ragdolls) or for two cats from the same household. In addition to the larger cabin is the option to expand into a second Single cabin through the "storybook" door which creates a duplex. A family of 3 to 5 cats can board quite comfortably with this expansion. In one case, we had a family of 4 cats with one being a very active kitten. By closing the storybook door, we could give the kitten a "time out" now and then which gave much needed relief to the 3 older cats!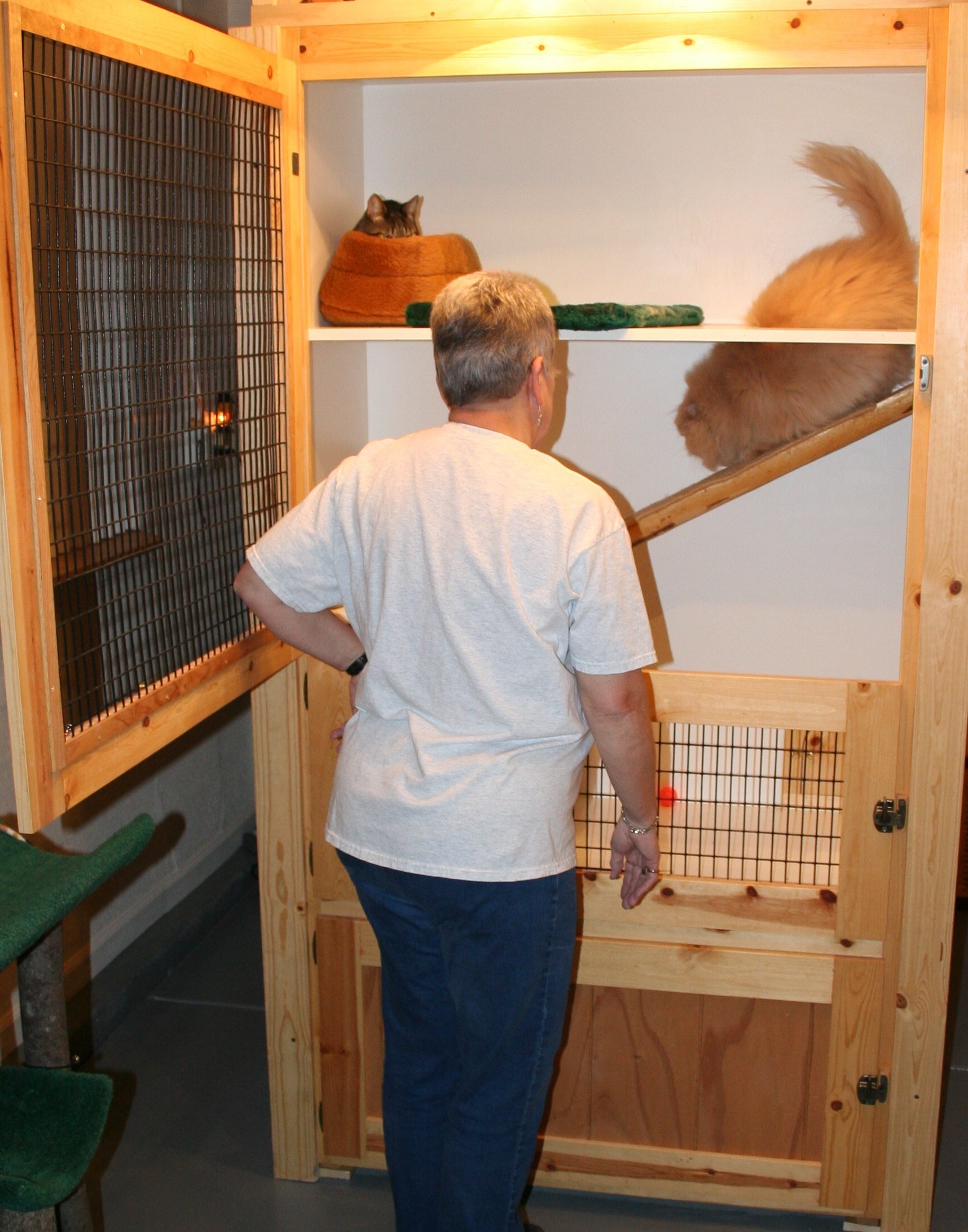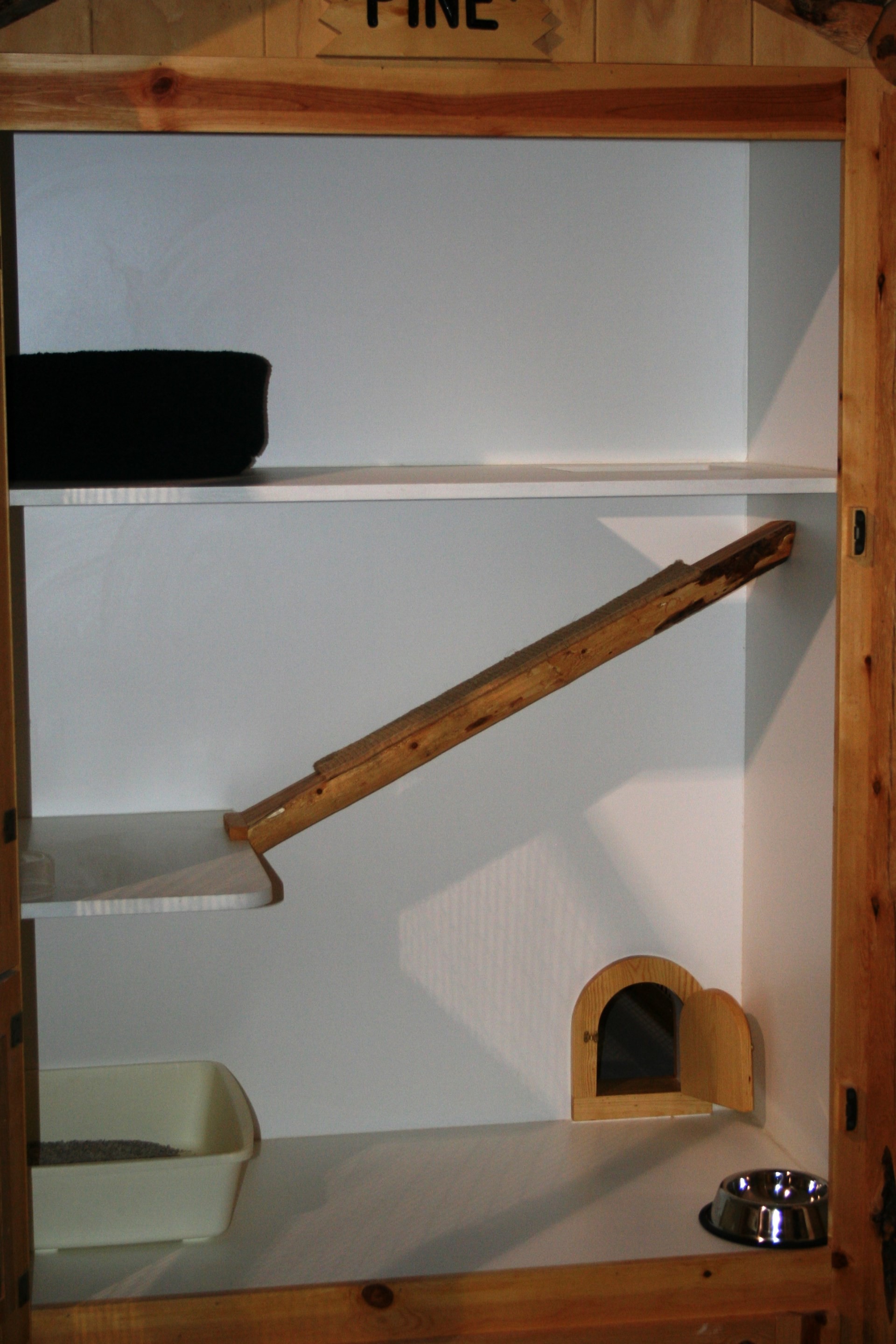 The "storybook" door in the lower corner connects the larger Suite to a Single Cabin
creating a duplex cabin for families of cats.

HOUSEHOLD PRIVILEGES
A cat guest (and especially a kitten) with a people purrsonality, may be allowed to enjoy our household in addition to the Cattery. Your cat can enjoy lap-time, watch TV and just generally hang out with us. Sleepovers on our King-size bed (if this behavior is okay with the pet parent) are also enjoyable. Since we don't have a cat, we can spoil yours! But since it is our choice, we don't charge any extra for this privilege.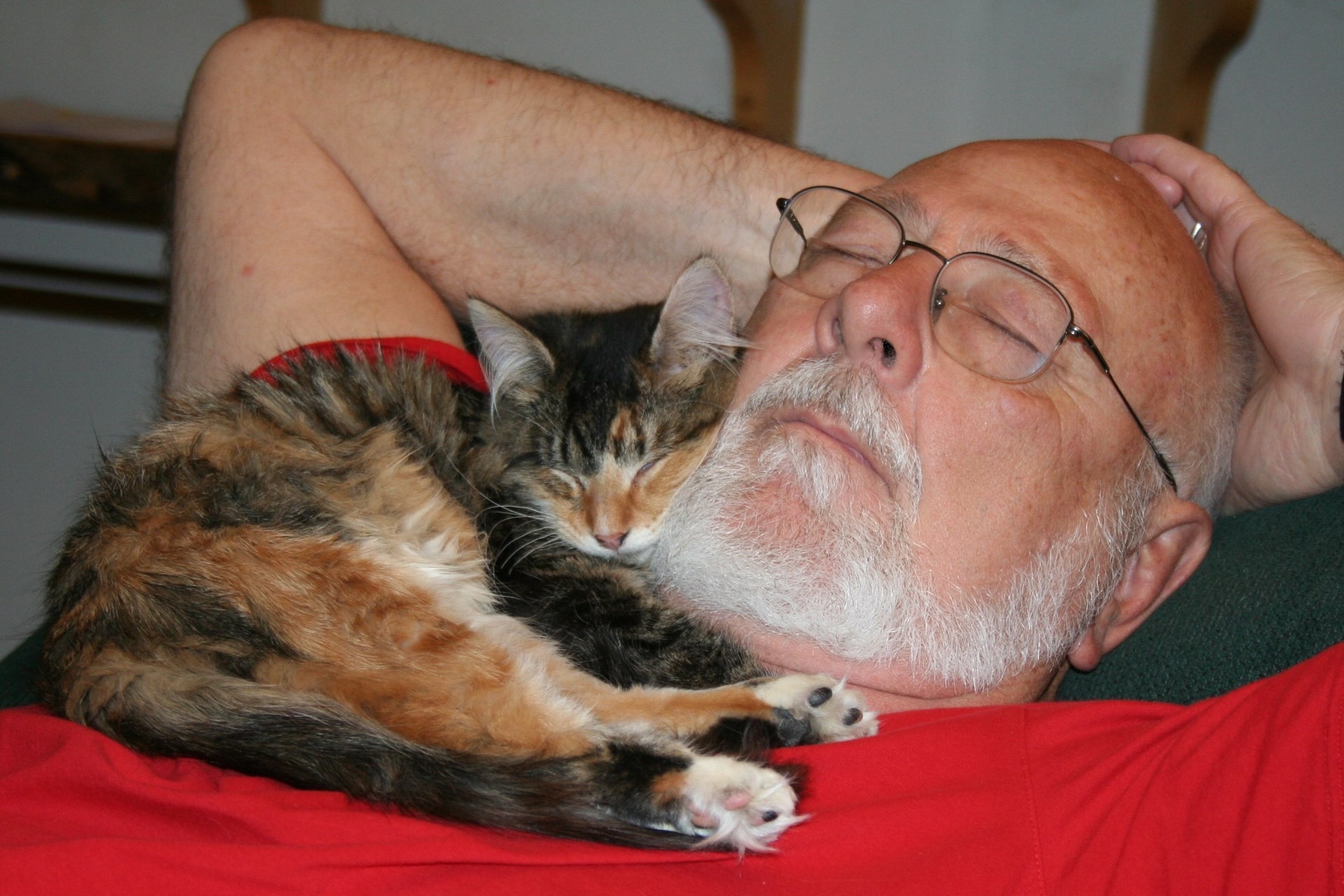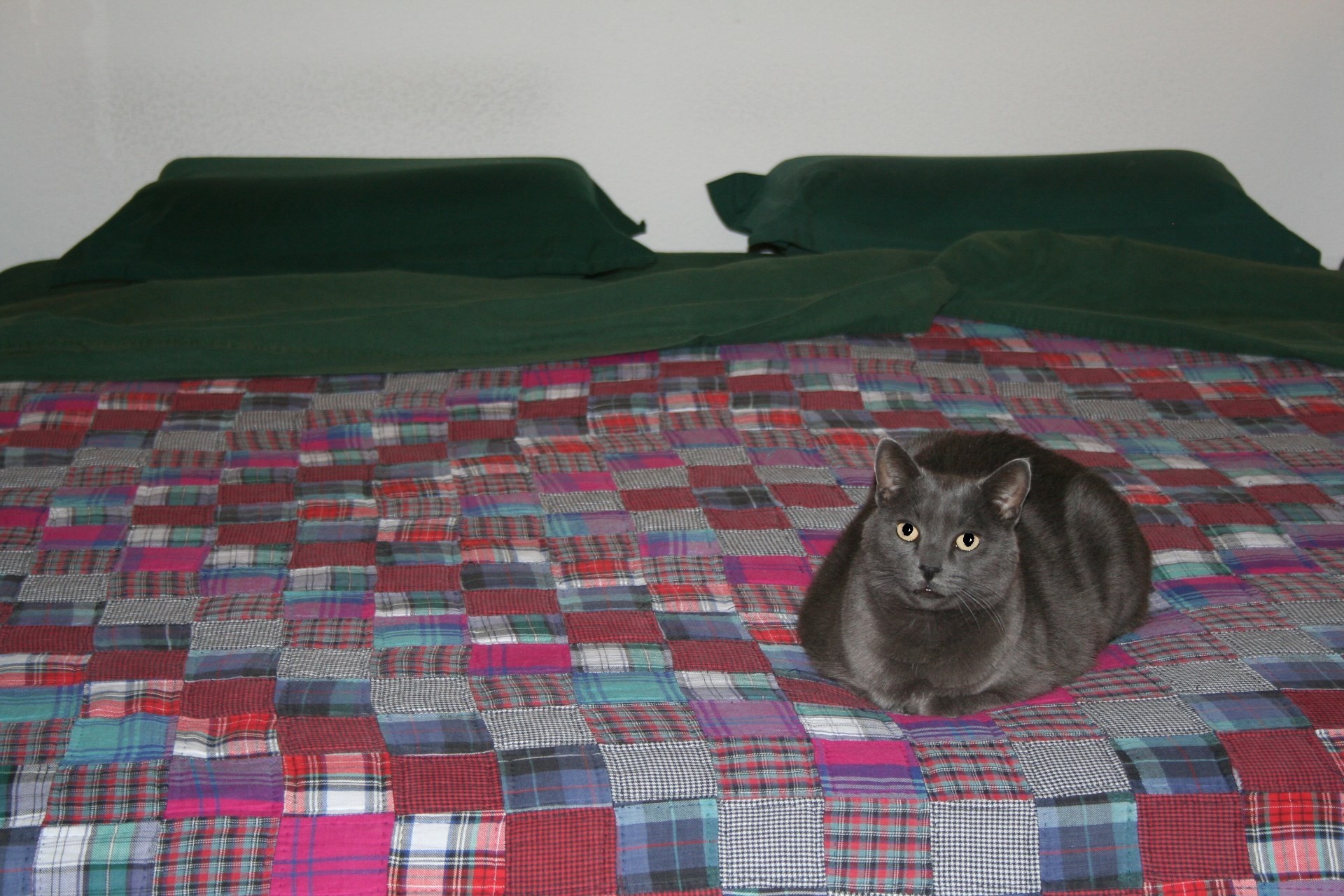 Guest kitten napping with "Uncle" Barry
Guest "Katrina" waiting for us on our king-size bed

RESERVATION DEPOSIT
FIRST TIME clients
A 2-day Deposit is required to hold the Reservation. Deposit will apply to the total fee.
A minimum of seven (7) days cancellation notice prior to Check-in date is necessary for the deposit to be refunded.
If notification is after the minimum 7-day notice, credit will be applied to the next Reservation.
REPEAT clients
Reservations for repeat clients do not require a deposit.

DAILY BOARDING RATES
Payment is expected at Pick-Up or Check-In (Cash preferred; local checks okay)
Fees are calculated by the DAYS boarded including the Pick-Up & Delivery days
1 CAT - CABIN RATES (per EVERY day):

SINGLE – NO playroom = $20 (7' H x 3 1/2' W x 2' D)
SINGLE – with playroom = $25
SUITE – with playroom = $30 (7' H x 4' W x 2' D)
SUITE + SINGLE with playroom = $40 (2 joined cabins)
2 CATS - CABIN RATES (per EVERY day):

SINGLE – NO playroom = $25
SINGLE – with playroom = $30
SUITE – with playroom = $35
SUITE + SINGLE with playroom = $45

3 CATS - CABIN RATES (per EVERY day)

SUITE - with playroom =$40

SUITE + SINGLE with playroom =$50

TOURS
Of course you will want to see where your cat or cats will be staying! You may want to inspect our facility before you board the first time, and we encourage this...in fact, we insist! Pet Parents who come to view the Cattery often express "WOW" on entering. The handcrafted cabins are designed to give your cat the luxury they deserve while you are away! Because there are different types of cabin choices, you may want to put in a request for the one you would like for your cat(s).
. . . AND, after the tour, you will receive a FREE GIFT for your cat!
Since Hideout Cattery is in our home, we ask that you respect our privacy and call first for an appointment. Our telephone hours and tour hours are the same: Noon – 9:00 pm, Monday - Sunday
SINGLE CABIN + PLAYROOM
The SINGLE Cabins are 7 feet high by 3 1/2 feet wide, by 2 feet deep with 3 levels. These are large enough to comfortably house 2 cats from the same household, provided they like each other.
At the base of each custom built and engineered cabin is a cupboard for your cat's personal belongings such as carrier, food, treats, and extra toys. (Note: We NEVER call them cages! That would be insulting to your cat and to our luxury Cattery accommodations)
The bottom level (the Powder Room) contains the Litter Box. The middle level is for Dining. From the Dining level is a sisal carpeted "scratching" ramp that leads to the top level also called the Lounge. The cozy, furry, round beds are perfect for snoozing. The private window in each cabin is ideal for observing the birds and rabbits in our front yard as well as the parade of dog walkers on the street.