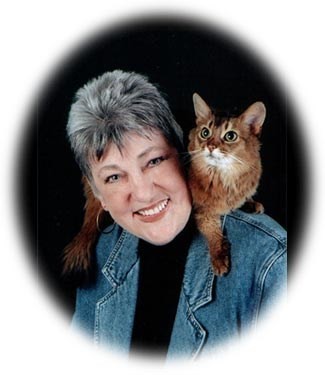 Tricia with her purebred, ruddy-color Somali cat, "SLYLVIA"

Tricia T. Hunter, is a "Cat Lady" in that she understands them and their behaviors (even her zodiac sign is LEO!). She grew up with pet cats and has almost always had a special cat in her adult life…usually one at a time, since each one considered itself to be the center of the Universe!
Tricia is primarily responsible for the care and well-being of the Hideout Cattery's cat guests, so it might be of interest to cat parents as to her experience and training with pets. Of course, since the Cattery has also been called a "cat house," she could be referred to as the Cat House Madam!

Since 1980,Tricia has been working with dogs & cats in both job and entrepreneurial business capacities…listed alphabetically (!):

Animal Control Officer

Animal Shelter Assistant Manager

Business Owner/Manager:

"Country Cattery Boarding Resort" (Grass Valley, CA - 10 yrs)

"Cozy Cattery Boarding Resort" (Reno, NV - 5 yrs)

"Hideout Cattery" (Reno, NV – 5 yrs & Cody, WY, 2017+)

"Dog Behavior Workshops" (dog training & consulting)

"Tail End Pooper Scoopers"

"TLC Pet Sitting"

Cat Behavior Advice Columnist & Hotline

Dog Behavior Workshops

Dog Obedience Class Instructor

Humane Society Board Member/Fundraiser/Volunteer


Public Schools Humane Education Coordinator

Veterinary Assistant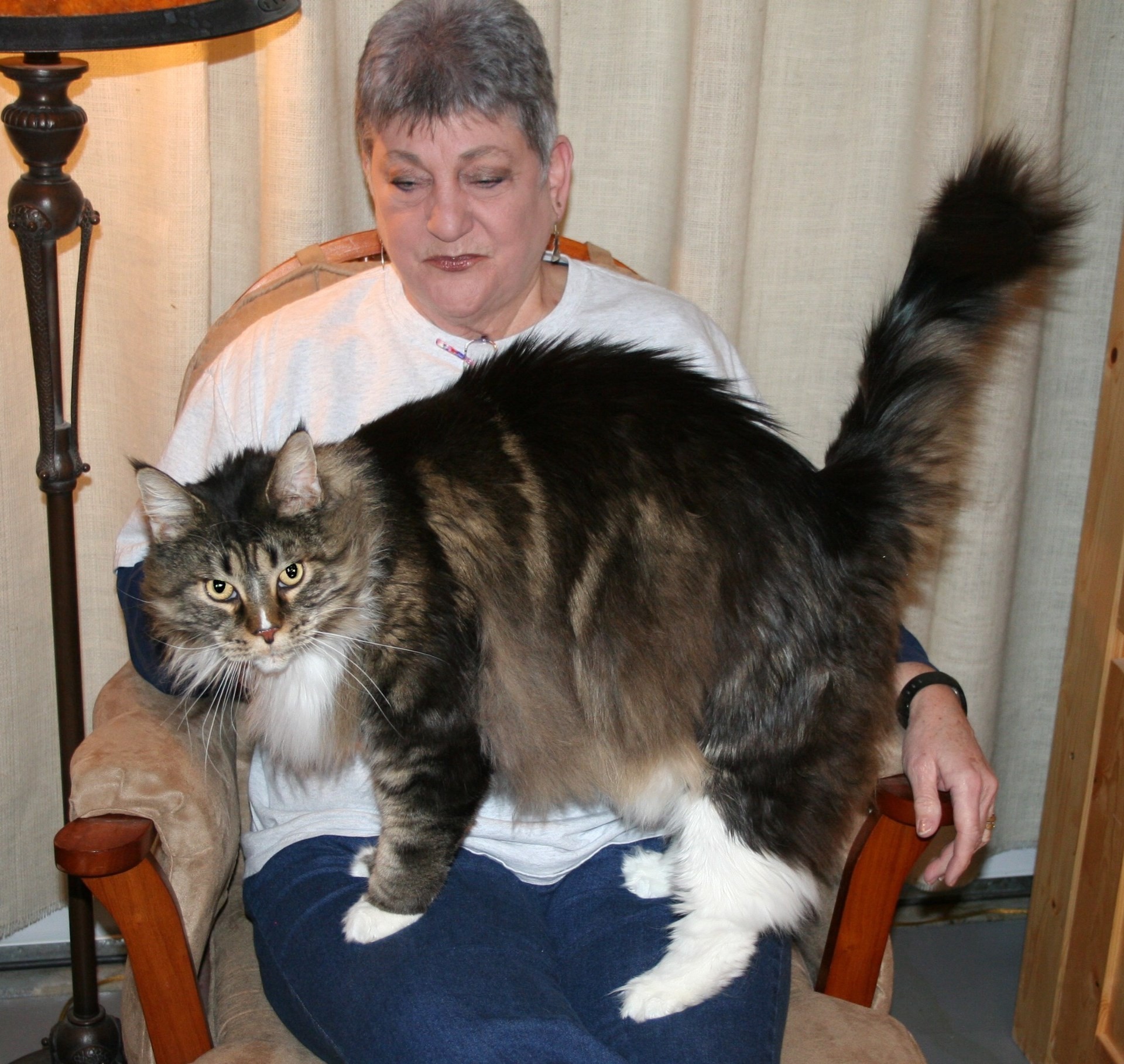 A gentle giant, "TIGER" is a purebred, male Maine Coon Cat who is getting lap-time as a guest at Hideout Cattery



After graduating from Palomar College, San Marcos, CA, Tricia attended the following specialized trainings:
Animal Control Training, Colorado State Univ., Fort Collins
New York School of Dog Grooming, NY
National Institute of Dog Training, Los Angeles, CA
TRAINING:
Animal Communication skills have been a lifelong, ongoing pursuit, but specific coursework over 4 years includes:
Beginning, Intermediate, & Advanced Psychic Development training, Caroline Hart, Church of the Essence,
Grass Valley, CA
Beginning, Intermediate, & Advanced training in Channeling Skills, LuminEssence Creations, Oakland, CA
Basic, Intermediate, Advanced, Counselor, & Teacher training, Interspecies Communication, Penelope Smith,
Point Reyes, CA
Advanced Animal Communication for Counselors, Carol Gurney, "HeartTalk" Program, Agoura, CA
Comprehensive Flower Essence Theory & Practice, Flower Essence Society, Nevada City, CA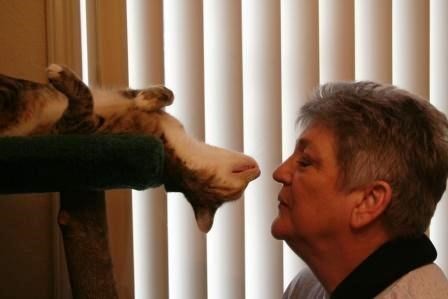 Tricia's Pet Services in Park County, Wyoming
HIDEOUT CATTERY…In-Our-Home Cat Boarding
CaTalks: Cat Behavior Modification Consulting
PeTalks: Dog Behavior Modification Consulting
Dog Behavior Workshops
Telepathic communication with "Simba"